Series: The Dawning of Power trilogy (Book 1)
A World of Godsland novel.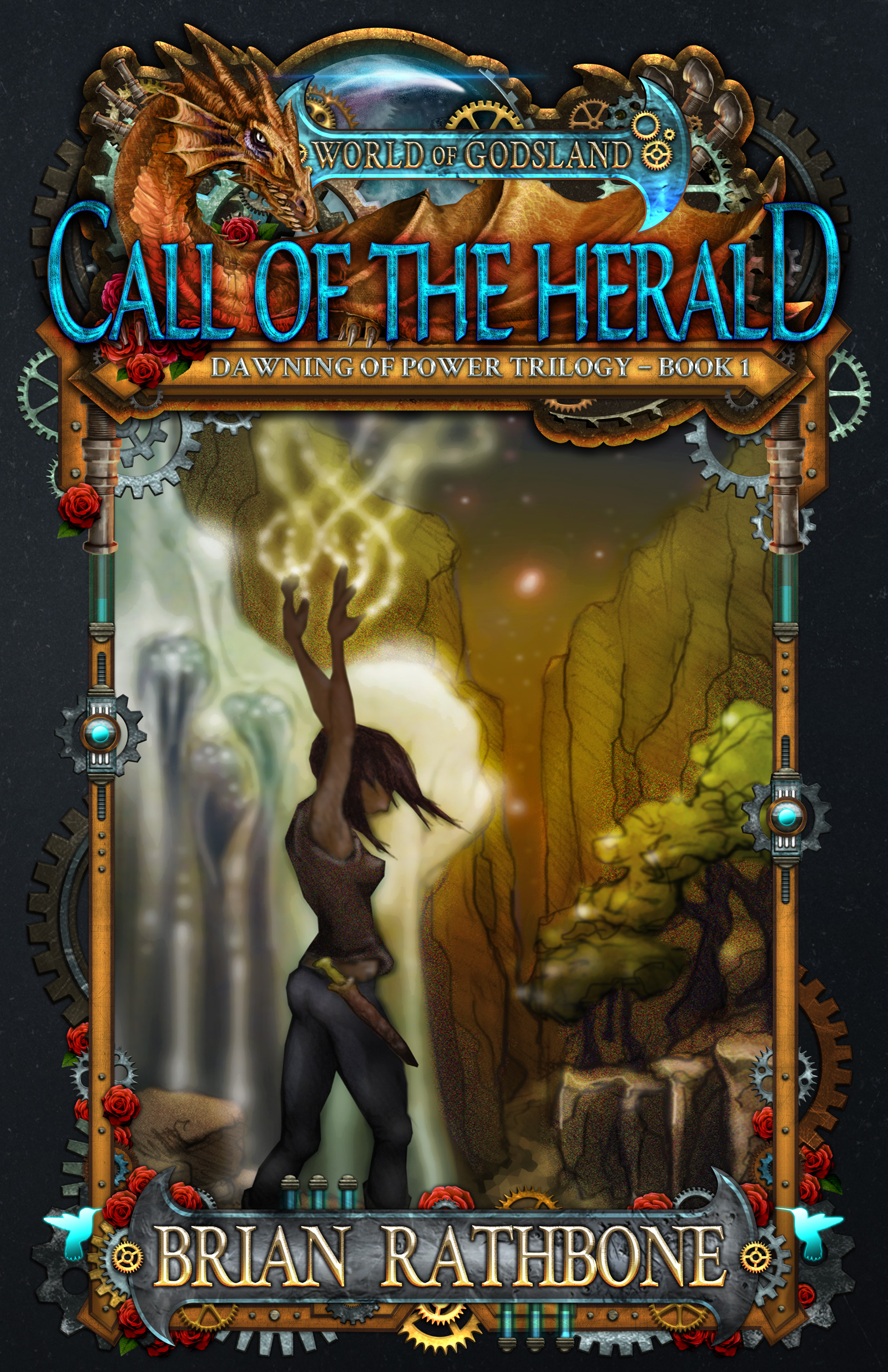 "Echoes of the ancients' power are distant memories, tattered and faded by the passage of eons, but that is about to change. A new dawn has arrived. Latent abilities, harbored in mankind's deepest fibers, wait to be unleashed. Ancient evils awaken, and old fears ignite the fires of war. In times such as these, ordinary people have the power to save the world . . . or destroy it."
Fantasy is one of those genres which, if not handled properly, has the strength to bore you and even stop you from picking any other book of the genre. When I pick a book it is for one of the two reasons; 1) I have to read it because it is a good book or 2) I have to read it because it looks like a good book. The book is very impressive with beautiful language and a dash of humor thrown in with lots of magic and some great philosophy.
What I particularly liked about the novel was Brian's use of quotes from his characters to start a chapter. What I disliked was Catrin's realization of the world around her after she became powerful. I mean it took her magical powers to understand that nature is beautiful? But I think I know why Brian did it. Many of us are indeed so dumb that it would take us great strength to realize that nature is beautiful, alive and vibrant. Osho says many a people who do not know what sunset is are ready to pay millions for a Picasso.
The story starts… wait I can never do that. No matter how often I read a book or how much I like it, I hate to tell how the story starts or ends. What I will do is tell what I felt the story meant and what impact it had on me.
There be spoilers ahead…
I was on Twitter for quite a long time (since 2013) but I was nearly inactive. When recently I started blogging I increased my presence on it and as I unfollowed a lot of actors and followed a lot of writers, Brian Rathbone was one of them. I had not heard of him say three weeks before. Unlike many people whose first Twitter instinct is to send a message to their followers about their website or book, Brian just welcomed and thanked me for the follow. Over time his tweets got my interest and I thought of checking his book despite my very tight reading list. And I was glad I did! With many titles still hanging around my neck asking for their fair share of time (Great Expectations being one of them) along with my mandatory presence on social media for promoting my work I finished his 204 page e-book in three days. Not to brag my reading speed or anything but I sleep more than seven hours and have my students to teach. The book piqued my interest from the very beginning and held me on my seat till the end. Granted I did not read it past midnight like I did Pride and Prejudice, Lolita or The Shining to name a few. But that was because I have started exercising recently and I was tired till then.
The story starts in action and ends in action too. Brian later went on to write eight more books in the series each better and mature than the last one. The story is not very new, it's retelling of one of the most common stories with one of the most common themes but Brian still manages to tell it very freshly with minor and negligible defects. A girl when given an unknown power is thought to be evil by her village folks and has to escape as ancient enemies attack her land. She learns to control a little of it by help of her friends but needs to learn a lot. As she is pursued by enemies she shows them their power and …
The story telling is captivating and though it has many faults (the characters are not well developed, the action at times is very slow, at other times way too fast, some characters are extra unless they featured more prominently in other books, the main character is someone you cannot easily identify yourself with, plus what farm-living society considers education for all a necessity and allows a teenage girl and her male friends to go camping?) and at times I had to get up to drink water or eat something or just break the boring tone of language, I still enjoyed major portions of the story.
A word about Brian…
A former horse trainer and computer programmer, Brian Rathbone used his old world knowledge and love of fantasy fiction to create The World of Godsland fantasy series, which begins with The Dawning of Power trilogy. The World of Godsland fantasy series includes: Call of the Herald, Inherited Danger, Dragon Ore, Regent, Feral, Regal, The Fifth Magic, Dragonhold, The Seventh Magic.
When I told Brian that I didn't like some of the stuff he had written he was not at all offended but went on to say that due to reader's feedback he managed to write much better than before. With what little interaction I had with him I can say he is funny and interesting. He even sent me the picture to post along with this review when I asked for it.
—X—
Final input? I am not reading it again as I often do other books but I'm going to read the whole series because I really like Catrin Volker and would like to know what happened to her but more importantly about the secret of her mother's sword. Most probably you won't be disappointed.